WELCOME TO ROSARITO GALLERY
Welcome to Rosarito Vacation Rentals (Baja California Rentals), we make Rosarito Beach Rentals easy!
Come and use our Rosarito Vacation Rentals. From Rosarito Beach Hotels to Rosarito Beach Homes to Rosarito Beach Resorts. It is all available here. Quick, secure, and online....
Nightlife is hopping year-round, and for those who enjoy the outdoors, Rosarito Beach Mexico is ideal for beach and water activities, horseback riding, and much more.
Baja Studios built one of the largest Water-front movie sets in the world. This magic making film studio has filed such movies as Titanic, Planet of the Apes, and Master and Commander. Tourists, students and people from all over could enjoy the magic of the movies.
Rosarito is famous as a Gourmet's Paradise. It boasts more than 85 quality restaurants that can satisfy just about any taste or craving. Experienced chefs laureate with countless first prize International trophies can prepare you a meal that you will remember for years to come.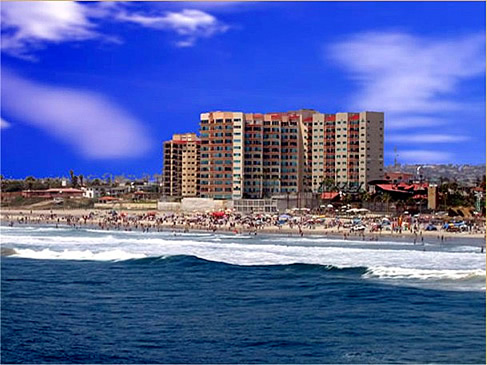 Almost a million lobsters are served in the Rosarito coastal area each year. "Puerto Nuevo-style" is now a world-famous synonym for the exquisite lobster offered in our local restaurants. But we're more than just another pretty lobster plate; more than just an endless variety of freshly caught, perfectly prepared seafood choices. From traditional Mexican cuisine that dates back to pre-Colombian cultures to the best Tacos you'll ever eat, Rosarito means great food every where you turn. Chinese, French, Continental, Cajun, it's all here. From Spanish tapas to sushi with a Mexican flair, you simply can't eat your way through Rosarito's affordable and exotic pleasures in a single trip that's one of the reasons people return again and again.